Zucchini, Zucchini, Zucchini
Zucchini, Zucchini, Zucchini
Zucchini is so easy to grow, and so prolific, that it has become the butt of many jokes. Some say there should be a law against growing more than one plant per household. Others say the only way to give it away is to sneak out at midnight and leave it on the porch of unsuspecting neighbors.
But since we didn't grow any zucchini this year we were delighted when a neighbor offered to give us some. Maren just grated much of it up and froze it, and we gave some to our son and his wife. I was even more delighted when I came home that night to the wonderful aroma of freshly baked zucchini bread. Oh, did it smell good! I just can't resist good zucchini bread. And it's easy to rationalize overindulgence because it is, after all, a vegetable, right?
So I had zucchini
bread as an appetizer before dinner… and as dessert after dinner… and for breakfast the next morning. As you can imagine, zucchini bread doesn't last long at our house. Maren says the recipe was given to her by a friend at church a few years ago. Anyway, it is so good I thought I would share the recipe with you. I hope you enjoy it as much as our family does.
Prep Time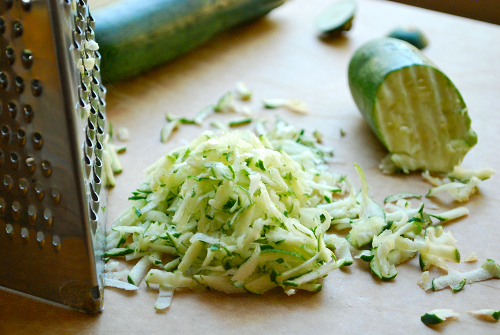 Total Time: 1 h.r 10 min.
Prep: 10 min.
Cook: 1 hr.
Yield: 2 loaves
Level: Easy
Ingredients
2 cups grated zucchini
3 cups all-purpose flour
2 cups sugar
1/2 cup brown sugar
1 cup vegetable oil
3 eggs, beaten
1 1/2 teaspoons vanilla
1 teaspoon salt
1 teaspoon baking soda
1/2 teaspoon baking powder
3 teaspoons ground cinnamon
1/2 cup chopped walnuts or pecans
Directions
Preheat oven to 325 degrees F.
In a large bowl combine eggs, oil, sugar and vanilla.
Add zucchini and dry ingredients.
Place in 2 standard loaf pans, sprayed with nonstick spray.
Bake at 325 degrees for about 1 hour, or until a tester comes out clean. Alternately, bake in 5 mini loaf pans for about 45 minutes.
I found this little tip from Dennis Weaver author of How to Bake- The Art and Science of Baking, and proprietor of the Prepared Pantry in Rigby, Idaho.
"Zucchini makes your cookies, cakes, and breads moist and healthier.  You can add zucchini to most of your favorite recipes. Zucchini adds a ton of water unless you extract water from your grated zucchini.  Grated fresh or frozen zucchini, without being pressed or drained, is about 50% water.  So you have to cut back on the water in the recipes.  If you add two cups of zucchini, you need to cut one cup of liquid from your recipe."
So enjoy those zucchini. And if you find yourself needing to give some away to your neighbors, just be sure to give them some recipes to go along with them. It might help keep peace in the neighborhood.