We've enjoyed some wonderful fall weather recently, but it won't last forever. It's time to prepare your yard and garden for winter. Here's a checklist of some of the things that you'll want to do over the next few weeks to ensure that the plants in your yard will come through the winter with flying colors.
Late October
Lawn
– Feed your lawn with T&C Winterizer. The fall feeding is the most important feeding of the entire year and will result in a greener lawn earlier next spring.
– Mow lawn short. Setting your lawnmower a notch or two lower on your last mowing of the season will reduce the matting of dead grass blades next spring resulting in quicker green-up. It will also reduce the chance of snowmold in your lawn.
– Edge lawn. Edging the grass along your sidewalks will make it easier to shovel or blow snow this winter.
Perennials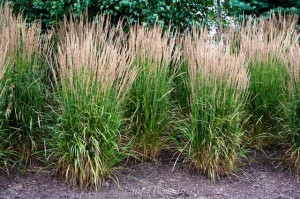 – Cut down most perennials to about 4″ high. It will look nicer for the winter, but you can still find them in the spring.
– Leave ornamental grasses in tact. They are at their most beautiful in late fall and early winter.
– Mulch perennials. Many perennials are totally hardy and don't need mulching, but tender varieties (Zone 5) should be mulched with 4-6 inches of Soil Pep or leaves.
Veggies and Berries
– Remove dead veggie plants. Add them to compost pile or rototil into soil. Diseased plants should be removed and burned or discarded in trash.
– Prune raspberries. Remove canes that bore in July. Prune remaining canes to about 4 feet high.
– Add Sulfur. Disintegrating sulfur granules will lower the pH of the soil. Good for all plants, but especially raspberries and strawberries.
Trees and Shrubs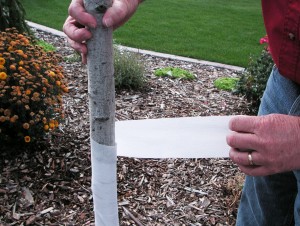 – Feed all trees and shrubs. Use Save-a-Tree or T&C Tree & Shrub Food.
– Wrap trunks of young trees. Use white, breathable wrap on trees that have been planted for three years or less.
– Wrap tender evergreens. Use burlap to wrap evergreens that are susceptible to sun scald and wind burn like Alberta Spruce, arborvitae, and broadleaf evergreens like boxwood and holly.
– Prune trees and shrubs. Fall is a good time to prune most trees and shrubs.
Miscellaneous
-Prepare Snowblower. I hate to even bring this up, but now is a good time to make sure your snowblower is in good operating condition. You want it to start and run properly the first time the snow flies.
– Winterize sprinkler system. Blow out lines and winterize back flow preventer as necessary.
– Remove hoses from faucets. Leaving the hose attached can result in frozen pipes and flooded basements.
Early November
Lawn
– Rake leaves from lawn. Rake the leaves from your lawn to prevent them from matting over the winter. You can use them for mulch around your roses and perennials or add them to your compost pile.
Roses

– Mulch hybrid tea roses. Install white rose collars around tender roses and fill with Soil Pep bark dust. If you prune at all, leave roses at least 18″ tall.
– Hardy shrub roses, including Knockout roses, need no special care before winter.
– Do not feed roses in fall.
Raspberries
– Apply Casoron to raspberries. Casoron granules will prevent weeds and grasses next spring.
Pond
– Clean leaves out of pond. If you have a pond it's important to remove excess debris. Decomposing leaves can release gasses during the winter that can be harmful to your fish.
– Move water lilies to deep area of pond. Water lilies need to be deep enough that they stay below ice that forms on the pond-preferably at least 2 feet deep.
Miscellaneous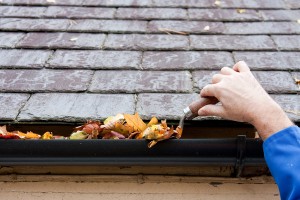 – Clean rain gutters. Removing leaves and debris from rain gutters will keep downspouts from clogging and ice dams from building in winter.
– Install heating cables to roof. This will prevent ice from building up in gutters or roof valleys and causing leaks during the winter.
– Winterize lawnmower. Run it out of gas or add Sa-bil to gas to keep it from gumming up over winter. Sharpen blades so they are ready to go next spring.
Wow, that's quite a list. But you have the next several weeks to work on it. Take advantage of the nice weather we are having to get it done so you aren't out there in the cold and wind trying to do it later. You'll be glad you did.