A couple of weeks ago Jim Kennard, president of the Food for Everyone Foundation, was in the Idaho Falls area where he gave 5 or 6 all-day seminars on the Mittleider Method of gardening. Over 1,000 people attended his seminars so if you live in the Idaho Falls area you are likely to have a neighbor or friend who attended. So I thought it might be helpful to write just a little about the Mittleider Method of gardening.
I want to be up front. I am not writing from experience as I have not tried this method, but what I have read about it makes sense to me. If you are an experienced and successful gardener I don't know that this method is for you, but if you are new to gardening, or have been less than successful, it may be something worth trying. Most of the information in this article comes directly from the foundation's website at www.GrowFood.com. You can go there for more information.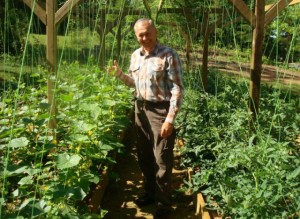 According to their website the Mittleider Method combines the best features of soil-based gardening and hydroponic gardening, but without hydroponic equipment and expense. It's a complete, easy-to-follow plan that eliminates guesswork and ensures success in almost any situation: an apartment patio, a city yard, or a country estate. I think this is what makes the system so attractive
to folks who are either new to gardening, or who have been less successful than they would like to be. This system tells you exactly what to do, when to do it, and is nearly fool proof (or so I'm told).
The method is based on maximum utilization of space, time, and resources. Crops are large because plants are close together (as in square foot gardening), and nourished by supplemental feedings of mineral nutrients (as in hydroponics). You can grow in an inexpensive sand/sawdust mix or natural soil where plants have access to nutrients that may be useful in human nutrition.
Dr. Jacob R. Mittleider, who died in 2006 at the age of 88, developed his method of gardening while conducting family garden-size agricultural training in 27 different countries. He was raised on a farm in Idaho, but spent his adult life in California and Utah (when he wasn't traveling abroad.) After 20 years of growing flowers and vegetables commercially, Dr. Mittleider embarked on a program of sharing his expertise with gardeners and would-be gardeners around the world. In 1964 he was asked by Loma Linda University in California to take an extended trip to study the diets of the people in developing countries. He traveled through the Middle East, Africa, India, Australia, Southeast Asia, and the South Pacific.He found that the diseases, insects, and nutritional deficiencies were similar in all countries visited and that the agricultural problems closely resembled those in the United States. He concluded that the solution to their food problems simply required carrying out the recommendations of experts in plant nutrition and following scientific agricultural practices.
Thus he developed the Mittleider Method of gardening—an easy-to-use method that allows gardeners to raise nice crops of vegetables on almost any soil, in practically any season, in almost any climate, and virtually at any elevation. He recommends creating your own fertilizer by mixing gypsum, 16-16-16, epsom salts, Borax, and "Mittleder Magic Micro-Mix", and feeding your plants weekly. All of these products are available at Town & Country Gardens.
If you have personal experience with the Mittleider Method, pro or con, please comment below and share your experiences with us.