Well, about 10 days ago, when we had that hint of spring, I uncovered my roses and got them pruned and fertilized. Despite the incredibly cold January it appears that my roses came through okay, at least the portions I had covered with mulch.
If you haven't uncovered your roses, yet, it's probably time to do so. You don't want them sending out new growth shoots under the mulch.
Here's what my roses looked like before I uncovered them. Last fall I connected two rose collars together to make one big collar. I placed it around each rose and filled it with Soil Pep bark fines about 8 inches deep.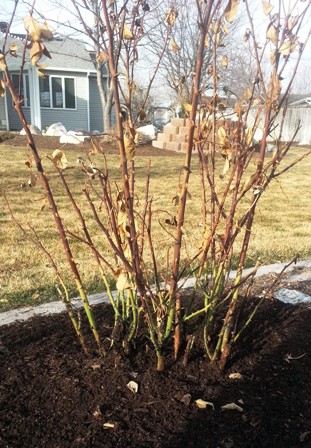 As you can see, the rose canes were pretty well hammered by the cold weather this winter, but when I pulled the mulch back the canes were green and healthy below the mulch line.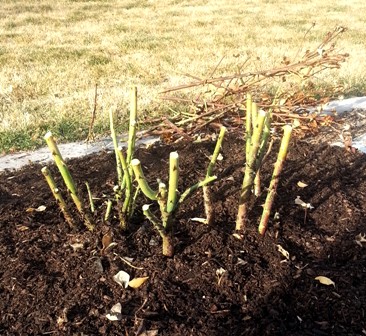 Once I had the mulch pulled away I pruned all the canes back to about 6 to 8 inches. I also removed any small weak canes along with any other damaged or broken ones.
When completed, I fed them with T&C Fruit & Flower Food. You could also use Garden Elements Organic Rose & Flower Food. Now I just wait for them to grow. I can't wait for my first flowers!