I've always been a little fussy about how my lawn looks. I'm not OCD about it or anything, but I like my lawn to look nice. And I like helping others have nice looking lawns, too. So I'm always trying new experiments on my own lawn to test new products and methods to keep my lawn looking green and beautiful. (Of course I try to do my experiments in my back yard so I won't be embarrassed when my neighbors see a patchy looking lawn in front.)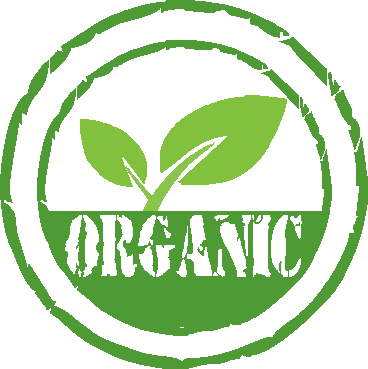 Last year I tried Town & Country's new Granulated Organic Compost. I used it on just a portion of my back lawn and used our regular lawn program on the rest. Admittedly it wasn't a scientific experiment, but the end result was that I was sufficiently satisfied with the results that I'm going to try going all organic on my lawn this year. Here's the program I will be trying.
Step 1- April 1- Natural Guard Soil Activator. This is the same product I've always used first thing in the spring. It is a natural product that is very high in humic acid that speeds the decomposition of organic matter, increases beneficial microbes, and helps loosen the soil. Although not a fertilizer, it's the best thing I've found to get my lawn greened up in the spring.
Step 2- May 15-  Town & Country Gardens Organic Compost. This is our exciting new organic plant food. It allows you to easily apply compost to your lawn (or garden) because it comes in an easy to use granulated form. It's 5-1-1 formula feeds the lawn over an extended period without forcing rapid growth.
Step 3- Sept. 1 Espoma Organic Lawn Food. This new organic lawn food is made from feather meal & pasteurized poultry manure. It also contains Espoma's exclusive Bio-tone beneficial microbes.
Step 4- Oct. 15 Town & Country Gardens Organic Compost. This fall application uses the same product as Step 2 and prepares your lawn for the rigors of winter and a quick green-up next spring.
Organic Weed Control
Weed control can be difficult if you want to stay 100% organic. If you expect a completely weed free lawn you are going to be disappointed. But if you can tolerate a few weeds, are willing to do a little manual removal, and will use the following products as needed you can keep your lawn relatively weed free.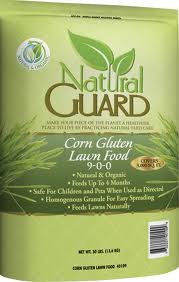 Natural Guard Corn Gluten Lawn Food 9-0-0
This natural by-product of corn processing contains a relatively high level of organic nitrogen making it a great lawn fertilizer. In addition, it impedes (at least to some extent) the germination of weed seeds. But to get the full benefit of the weed control it needs to be applied at double the recommended rate (20 lbs. per 1,000 sq. ft. is best) and timed to coincide with the blooming of the forsythia in late March or early April. Another downside is that it is significantly more expensive than other organic lawn foods, especially when applied at the heavier rate. The upside is that it can feed your lawn for up to 4 months. So you might consider using it to replace Step 1 and skipping Step 2 if you lawn stays green enough for you. That would keep the cost down somewhat.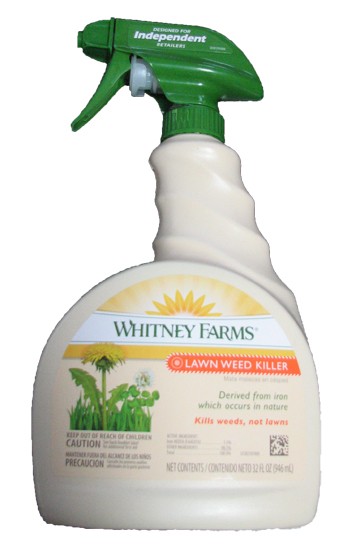 Whitney Farms Organic Lawn Weed Killer
This exciting new development in organic lawn weed control is the first selective broadleaf weed killer. In other words it will kill your dandelions and not your lawn. All other organic weed killers will damage pretty much anything you spray them on. This product is fairly reasonably priced for spot spraying weeds, but could get expensive if used to spray your entire lawn. It contains a form of Iron (FeHEDTA) which occurs in nature and has no unpleasant odor. Spray dandelions as soon as they are rapidly growing, but before they bloom. You can also spot spray throughout the summer as needed.