My Fall Gardening Checklist
My Fall Gardening Checklist
We've been experiencing some incredible fall weather lately- blue skies, temperatures in the 60's and no wind, and I have taken advantage of it. I've been stealing a few hours here and there all week to get the last of my fall projects done around the yard. Here's what I've accomplished so far.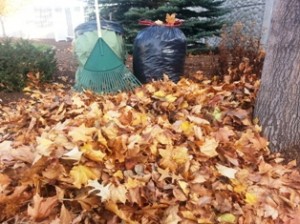 Completed:
Mowed lawn short
Edged along the sidewalks
Applied winterizer lawn food
Raked leaves
Cleaned leaves out of pond
Cut back perennials
Harvested last of carrots
Cleaned garden spot
Fed trees
Mulched roses
Serviced snowblower
Winterized sprinkler system
Yet to do:
Prune raspberries
Apply Casoron to raspberries
Apply sulfur to raspberries
Clean rain gutters
Do a little pruning
Winterize lawnmower
I might mention that I like to use rose collars to protect my roses, but I clip two collars together to make a collar that is larger to fit around the plant more easily. (See picture above.) It provides more protections and is much easier to fit it around the roses.
Well, it looks like I've got today and tomorrow to finish up before winter sets in on Friday with snow and highs in the 30's. Time to leave the computer and get back out in the yard.