The key to achieving a lush, dark green lawn that is the envy of the neighborhood is simple- apply the right product at the right time throughout the season. At Town & Country Gardens we developed, tested, and refined an exclusive 4-Step lawn program that makes it easy to have a beautiful lawn… and at a much lower cost than using a lawn service.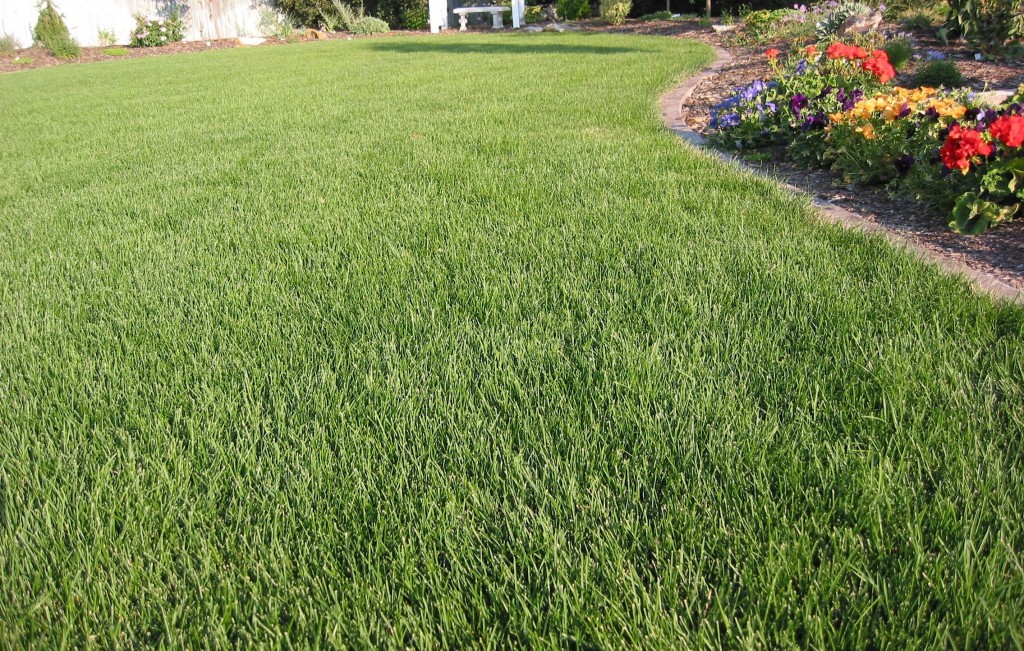 Town & Country Gardens' Premium 4-Step Lawn Program includes our own fully tested fertilizers formulated specifically for east Idaho soils and climate. Our customers rave about having their greenest lawn ever! It really works. We guarantee it!
Here are the four easy steps.
Step 1 – Natural Guard Soil Activator: March-April
Step 2 – T&C Premium Lawn Food: May-June
Step 3 – Fertilome Weed Out + Lawn Fertilizer : September
Step 4 – T&C Lawn Winterizer : October-November
Step 1– In the early spring your lawn needs a complete soil fertility builder – to help it recover from the rigors of the harsh winter. Natural Guard Soil Activator, contains humates and a wide array of minor and micro-nutrients including iron in a totally natural form that not only adds nutrients to the soil, but releases "tied up" nutrients already in the soil so they can be used by the plant. Soil Activator doesn't just force-feed the plant; it actually gets to the root of the problem and improves the soil for the long term.
A secondary benefit of using Soil Activator is the decomposition of thatch in the lawn. The humates in Soil Activator speed up the decomposition process that prevents dead grass stems and roots from creating the tight spongy layer that hinders proper absorption of water and nutrients. The result is not only a visibly healthier lawn but also the elimination or reduction of the need to power-rake (de-thatch) your lawn.
Step 2- In the late spring your lawn needs a boost that will carry it into summer. Town & Country Premium Lawn Food contains all the nutrients, including a high percentage of iron, which your grass needs to keep it healthy and give it that deep green color that you want for your lawn. Town & Country Premium Lawn Food contains three types of nitrogen, including 60% polymer coated slow-release nitrogen for extended greening of up to 12 weeks. You can't buy a better lawn food. We guarantee it!
Step 3- In early fall, as the temperatures begin to cool, it is time to apply Fertilome Weed Out + Lawn Fertilizer. The lawn is now beginning to store nutrients in its roots in preparation for dormancy. During this period weed killers are particularly effective because the herbicide travels deep into the root, rather than just "top killing". Fertilome Weed Out + Lawn Fertilizer contains 3 herbicides that control over 200 listed broadleaf weeds. Do not mow lawn prior to application. Lawn should be lightly wet before application, but do not water for 24 hours after application.
Step 4-  Late fall is probably the most important feeding of the year. Application can be made anytime in the fall, but the ideal time to apply Town & Country Lawn Winterizer is in October or November. Since your lawn is approaching dormancy now, nearly all of the nutrients are used to promote root growth and very little for top growth. Town & Country Lawn Winterizer contains extra potassium for winter hardiness and 30% slow release nitrogen. This builds a very dense, healthy turf and provides stored nutrients that will encourage early spring green up, often up to two weeks earlier than lawns that don't receive a fall feeding.
A Little Extra Help When Needed
Broadleaf Weed Control- If you need additional help in controlling dandelions and other broadleaf weeds, spray with Fertilome Weed-Free Zone in mid April before the dandelions bloom. This will kill any weeds that the Fertilome Weed Out + Lawn Fertilizer may have missed the previous fall. Do not spray when temperature is expected to exceed 85 degrees.
Grub Control- Lawn insects, particularly Billbugs and White Grubs, can destroy large patches of your lawn very quickly. The problem can be prevented with an application of Grub Free Zone. The timing is critical. Apply in May, before any damage occurs, for best results. You may need to reapply in early July.
So there you have it- lawn care as easy as 1, 2, 3, 4. Now's the time to get started with Step 1, and before you know it your neighbors will be asking "What do you do to get such a lush green lawn?".