Okay, so I've taken a bit of a hiatus from writing in my blog for a month or so. With Christmas and New Years and football playoffs and all the rest, I just haven't gotten around to writing. Well, that and the fact that their really isn't a whole lot going on in the garden right now. After all this is Idaho.
This January has been one of the coldest months we have had in many years in east Idaho, with temperatures dropping below zero nearly every night, so there's not much growing outside. Nevertheless, there are still some things we need to do this month in the yard and garden. So get on your long johns, snow boots, and mittens and check on that yard of yours. Here's a list of some things you might want to attend to.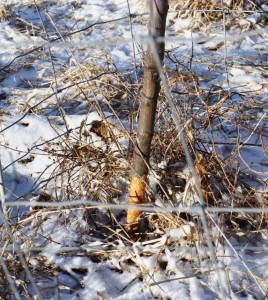 1- Check for rodent damage in trees. This is the time of year that voles and rabbits will start gnawing on those tender young (or even old) fruit trees you have growing in your back yard. Pull the snow away from the trunks of the trees and make sure some varmint isn't chewing on the bark. If they girdle it completely around the trunk the tree will die without doing some bridge grafting. (I'll talk about how to do that as we get closer to spring.) If you see damage (or even if you don't) place something around the trunk to keep the critters from eating it. Wire mesh works well, or plastic tree wraps that are available at your local nursery. If you find there is already damage, don't do anything for now. It doesn't help to paint "pruning paint" on the wound. Just leave it alone until spring when you can do some bridge grafting, especially if the wound reaches more than half way around the trunk.
2- Check the wrapping on tender plants. If you have any tender plants that you wrapped for winter, like Alberta Spruce, Rhododendron, or trunks of young trees, check them to be sure the burlap, or other porous wrapping is still in place and hasn't begun to sag or blow off, leaving portions of the plant unprotected from the wind and sun.
3- Add water to your pond. If you have a backyard pond you will probably need to add some water to it. Even during freezing winter weather you still lose some water due to evaporation- nothing like the summer, but some. In addition, if you keep your waterfall running some of the water will turn into ice around your waterfall and stream, thereby lowering your pond level. So if the level is a little low just drop a hose into the pond and get it filled back up to capacity. (Now's when you'll be glad you drained your water hoses and stored them in the garage last fall. You did, didn't you?)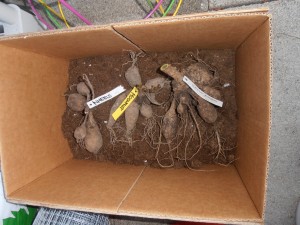 4- Check stored bulbs- If you dug up any begonia, dahlia, or gladiola bulbs and stored them for the winter you'll want to check them for any signs of rot. Discard any bad bulbs and make sure the bulbs don't touch each other so any rot that develops won't spread as easily.
5. Inspect houseplants- Inspect houseplants for insects, dust, and disease.  Rinse the plants in the bathtub or shower to remove insects and dust. The dust reduces the light to the plant leaf, and light is already in short supply this time of year. If you find an insect or disease problem stop by the nursery for diagnosis and solutions.
6. Attend garden seminars- Local garden centers, as well as community garden organizations and Master Gardener groups often offer classes on gardening in the winter. They're a good way to spend a Saturday morning this time of year. Here are some links to class schedules in east Idaho.
Town & Country Gardens
Southeast Idaho Master Gardeners
Idaho Falls Community Garden Association
7. Browse the seed racks at your local garden center. Most of the seed has now arrived at Town & Country Gardens. Stop in and catch a little spring fever as you peruse the many varieties of vegetable and flower seeds available this year. Nurseries are slow this time of year, so the clerks have time to answer any questions you might have about new varieties and gardening tips.
Okay, now you can shed the winter coat, cozy up to a warming fire and read a good book (or one of those gardening catalogs that seem to multiply in your mailbox this time of year.)