I received an email from Doug of Idaho Falls who had commented on the previous post about voles in the lawn and said he had made homemade traps to get the critters
In his earlier comment he said:
I have succsessfully trapped out all the vols in my yards with a sure-fire homemade trap system that costs just a couple of dollars to make. I use no bait or chemicals that can harm animals. Trapped 30 last summer and nearly 60 the summer before. I now get-em early before they reproduce and have little problems.
Here is the picture and his latest comments.
I am forwarding a photo of th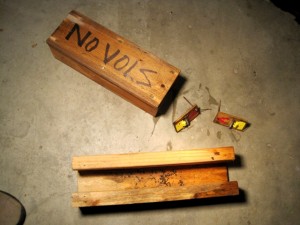 e vole traps.  As you can see I can't spell vole (i need to buy a vowel).  Hopefully they can work for you.  There are two mouse traps on either side of the hole and under the wooden tunnel piece. pretty simple. -Doug
 So, those of you with vole problems now have another weapon in your arsenal. Thanks, Doug!