It's October! Can you believe it? I've really been enjoying the nice fall weather, but I'm so not ready for winter yet. I'd really like to enjoy a few more weeks of this gorgeous Idaho autumn weather, but the forecast is calling for frost Wednesday night throughout the Snake River plain and continuing for several nights in a row. They are currently only predicting light frost in the valley, but higher elevations could see lows into the teens. So I think it's time to harvest the last of the crops. The only thing I think I will still cover and try to keep going is my one hill of cantaloupe. I have half a dozen fruit that are almost ready, but not quite, and I really want to be able to enjoy some fresh melons out of my garden, so I hope I can keep them going for another week or two.
I've already removed the cornstalks from my garden and decorated with them at the entry to the house. I'll do my last picking of tomatoes tonight and let nature take its course on what remains. We've had a good crop already so I won't feel too bad if the frost gets them. Right now we are busy with the last item to be harvested in the garden- grapes. We have a pretty good crop this year of both Himrod Seedless and Swenson Red Seedless. If you came to the "Sweet Corn Free for All" at Town & Country Gardens last Saturday in Idaho Falls you had a chance to sample some of my harvest.
Grapes are actually not too difficult to grow in zone 4 if you choose your varieties carefully. We have had pretty good success over the years with seedless varieties such as Himrod, Interlaken, Canadice, and Swenson Red. We've also had pretty good luck with Concord, Bluebell, and Reliance. Beta and Valiant are zone 3 hardy Concord types that can even be grown successfully in colder areas like Rexburg and Driggs.
When it comes to pruning do as I say, not as I do.  I haven't pruned my grapes in a couple of years and they have grown a bit out of control. I am going to have to head into the jungle with a machete to get them back in some semblance of order.
What I meant to do, but haven't taken the time to keep up with it is prune them like this diagram suggests.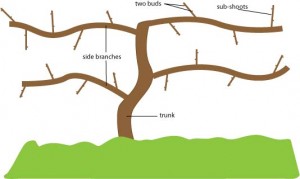 Most backyard grapes are best trained using the four arm system. This is done by stretching two stout wires between two posts that have been spaced ten feet apart. The top wire is tightly strung about five feet off the ground, and the second about two feet. The grape vine is planted between the two posts. Over time a strong central trunk is trained with only four arms, or branches, growing out of it. When planting a new vine, prune it back so that only two buds are left above ground. This may seem a little drastic, but it is necessary to develop a strong central trunk and a healthy grape plant. When new canes have grown out from the buds and are about two feet long, choose the strongest one and fasten it loosely to the end of a string. Tie this to the top wire. This will lead the cane straight up so that it will become the trunk and lateral canes will grow from it to form the four arms.
Or… just let it grow into a jungle like I have. A bit messy, and probably won't produce as heavily, but you'll still get a pretty good crop.