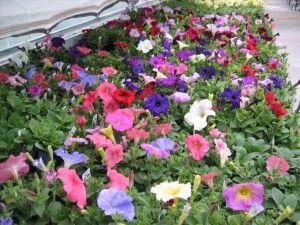 I don't know if this is true for most people, but oftentimes a sound or a scent will bring back a memory for me even more than a sight. Today I was walking past the petunias in the greenhouse and the scent immediately brought back memories of working in the greenhouse as a child. Now, petunias are not necessarily the most pleasant of flower fragrances, but the scent certainly brought back some fond memories.
A decidedly more pleasant and powerful fragrance in the greenhouse lately has been the hyacinth blossoms. Their pleasant perfume can be nearly overwhelming. Other fragrant flowers now blooming in the greenhouse include pansies, one of my favorites. Pansies are so hardy and easy to grow, and they tolerate hard frost, too. So they can be planted this time of year without worry.
Design with Fragrance in Mind
When planning your garden, consider fragrance in your design. Planting fragrant plants near your entry allows you to enjoy their sweet aroma each time you come and go. Their fragrance can also be enjoyed when planted near your deck or patio where an occasional whiff of their sweet scent might drift by as you sit in a lounger sipping a cool beverage and reading a good book.
The potency of flower scents varies greatly, so consider that when deciding where to plant. You might want to place plants with delicate fragrances close to the patio, but those with strong perfumes might be better a bit further away. Examples of those with strong fragrances include hyacinths and Star Gazer Lilies.
Don't go overboard with fragrances. You probably don't want to have multiple fragrances blooming at the same time in the same area of the yard. While the mixture can sometimes be delightful, I like to savor each scent individually. Of course flowers bloom at different times through the year so you can plant multiple types of fragrant flowers in the same area and have a different aroma at different times of the year. Just pay attention to the bloom times of the flowers you plant.
Here are a few of my favorite plants for fragrance in the garden.
Roses
Double Delight
Mister Lincoln
Fragrant Cloud
Scentimental
Angel Face
Annual Flowers
Alyssum
Cosmos
Dianthus (Pinks)
Scented Geranium
Heliotrope
Moon Flower (Ipomeoea alba)
Nicotiana
Pansy
Sweet Pea
Stocks
Perennial Flowers
Arabis
Bee Balm (Monarda)
Dianthus (Pinks)
Grape Hyacinth (fall planted bulb)
Hyacinth (fall planted bulb)
Iris
Lavender (Lavandula)
Lily-of-the-Valley
Peony (Paeonia)
Queen-of-the-Priaire (Filipendula)
Stargazer Lily
Garden Phlox (Phlox paniculata)
Russian Sage (Perovskia)
Thyme
Wallflower (Erysimum cheiri)
Herbs
Lavender
Mint
Rosemary
Sage
Thyme
Vines
Clematis 'Sweet Autumn'
Honeysuckle 'Gold Flame'
Honeysuckle 'Halls'
Wisteria 'Aunt Dee'
Shrubs
Daphne 'Carol Mackie'
Mock Orange (Syringa)
Lilac
Trees
Crab Apple 'Spring Snow'
Crab Apple 'Royal Raindrops'
Japanese Lilac
Pagoda Dogwood
Linden
Locust 'Purple Robe'
Merrill Magnolia