It used to be that you could get Echinacea, or coneflower, in any color as long as it was purple. But those days are long gone as the plant breeders of the world have done a tremendous amount of work on this genus in the last 15 years.
Echinacea is popular not only for its beautiful flowers, but also for its medicinal qualities. In fact it is one of the most popular herbs in America today. This native american plant is  named for its large conical seed head, which resembles the spines of an angry hedgehog (echinos is Greek for hedgehog). People have used Echinacea throughout the years to treat maladies such as scarlet fever, syphilis, malaria, blood poisoning, and diphtheria, but with the advent of antibiotics its use declined. But today, with a renewed interest in natural remedies, people use echinacea to shorten the duration of the common cold and flu and reduce symptoms, such as sore throat, cough, and fever. Many herbalists also recommend echinacea to help boost the immune system and help the body fight infections. (Source: Echinacea | University of Maryland Medical Center http://umm.edu/health/medical/altmed/herb/echinacea#ixzz2XoMlLJNm)
Personally I'm mostly interested in Echinacea for their beautiful flowers in July and August. Ideal for sunny borders and growing in mixed containers, coneflowers are also attractive to butterflies and make excellent cut flowers for bringing indoors. Coneflowers begin blooming as early as late June and continue through early September if faded flowers are regularly removed. But try leaving some dried flower heads on the plants in the fall to provide a food source for wintering song birds. Dried seed heads also add interest to the winter landscape. Coneflowers come in all kinds of colors, shapes, and sizes. Some of my favorites include:
Ruby Star
This is the traditional purple color that most of us think of when we think of Coneflowers. But unlike most Coneflowers, flower petals are held horizontally, not drooping. The bright purple-pink, daisy-like flowers held on sturdy stems make great cut flowers. This variety gets about 2 feet tall and blooms heavily in July and August- longer if you pick the spent blossoms. Very well branched, vigorous, and showy.
Sombrero Salsa Red
This Darwin Perennials introduction grows to about 2 feet tall and is about as red as you can get. This selection produces very large, single flowers with bright red overlapping petals surrounding a large cone that turns from green to brown as it matures. An excellent choice if you would like a tall red accent in your late summer garden.
Cheyenne Spirit
This brand new All America Selections winner for 2013 is a stunner that captures the spirit of the North American plains by producing a delightful mix of flower colors from rich purple, pink, red and orange tones to lighter yellows, creams and white. This wide range of flower colors will please most any gardener. As an added bonus, 'Cheyenne Spirit' does not require a lot of water and offers a wide range of uses from the perennial border, in a mass landscape planting, in a butterfly garden or as a cut flower.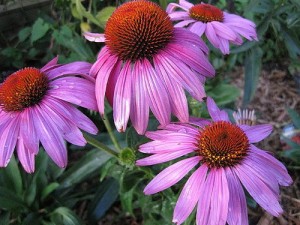 Prairie Splendor
This plant won Europe's top award (the Fleuroselect Gold Medal) for its ability to bloom fully the first year it is planted. And its flowers begin fully 2 weeks sooner than most other coneflowers, not stopping 'til frost. This super-compact, heavy-blooming variety outlasts every other Echinacea in the garden, and that's saying a lot.  Zones 3 (-40 degrees).
Razzmatazz
The first coneflower with hot pink double blooms. Its hard to even call it a coneflower because there's no cone! The cone is replaced with hundreds of pink petals that look like a soft pincushion. 'Razzmatazz' features fully double blooms with a central pom-pom of rose pink, surrounded by a circle of magenta-purple daisy petals. Very unique for a coneflower.
If none of these varieties tickle your fancy there are dozens more varieties from which to choose. Here is a list of some of the varieties I found on the bench at Town & Country Gardens today in addition to the ones mentioned above. I love the names- very descriptive!
Heavenly Dream
Solar Flare
Lilliput
Little Angel
Flame Thrower
Harvest Moon
Satin Nights
Sunrise
Prairie
Pica Bella
Meringue
Sundown
Gum Drop
Fatal Attraction
Magnus
Sombrero Lemon
Double Decker
White Swan
If you have yet to discover the delightful and exciting world of Echinacea, now is a great time to start. By planting now you will get to enjoy their colorful blossoms from now until frost and for years to come.