Easy and Nutritious Sprouts
Easy and Nutritious Sprouts
You can't grow much of anything outside in the wintertime in Idaho, but you can grow sprouts inside anytime. Here's an interesting article on sprouts from the folks at Botanical Interests, our primary supplier of sprouting seeds (and sprouters) at Town & Country Gardens.
Whether it's -12°F or 100+°F degrees outside, you can always count on sprouts to give you a bounty of healthful, fresh food all year long right from your kitchen counter! Growing your own indoor sprout "garden" assures that you will always have sprouts on hand at the peak of freshness with maximum nutrition.
Botanical Interests sprouting varieties are certified organic, untreated, and (like all of our other seed varieties) tested at an independent laboratory to ensure that they have a high germination rate.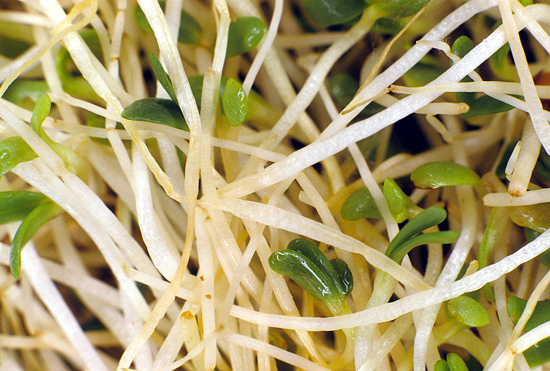 If you've never tried sprouting before, once you realize how easy it is, you'll be hooked. All it takes is a glass jar topped with a piece of cheesecloth or a nylon screen secured with a rubber band and a handful of quality sprouting seed to get started. (Detailed sprouting instructions are listed inside each packet.)
You will enjoy experimenting with the different flavors and textures of the sprout varieties listed below. When you've enjoyed home-grown sprouts once, you'll find they are indispensable in the kitchen.

Alfalfa sprouts are popular in restaurants for sandwiches, or on omelets. These thin sprouts have a sweet, nutty flavor and crisp, tender texture. They are high in protein, essential amino acids, digestive enzymes, vitamins, minerals, and chlorophyll (when you expose them to a little sunlight). Alfalfa sprouts are very versatile. You can add them to salads, soups, wraps or even 'green smoothies' (a delicious healthful drink made by blending fruit and veggies).
Mung beans make larger, thicker sprouts that can reach 2″-4″ long in just a week. They are a frequent ingredient in Chinese cuisine and can be eaten fresh or cooked. They have a wonderful crunchy texture and a mild flavor that is similar to peas. They are high in vitamins A, B, C, and E, calcium, iron, magnesium, potassium, and amino acids, and contain a whopping 20% protein, making them a satisfying addition to any vegetarian meal. A little rice topped with mung bean sprouts and a sprinkle of soy sauce makes a quick meal. You can also add them to stir-fries, salads, or enjoy them lightly steamed with a little butter.
Broccoli Sprouts have been in the news a lot for their cancer-fighting phytochemical, sulforaphane glucosinolate. It's more concentrated in young broccoli sprouts than in mature broccoli heads. These tender sprouts also have vitamins A, C, and E, and calcium. A sprinkling of them can perk up pizza, omelets, sushi, wraps, and hors d'oeuvres. You will eat them for their subtle spicy flavor as much as for their powerful nutrition.
Sandwich Mix Sprouts contains a carefully chosen mix of alfalfa, red clover, and daikon radish. A mix of mild and zesty flavors, it is perfect for adding "zing" and crunch to sandwiches, wraps, omelets, salads, or even stir-fries. These varieties have similar germination times, so you will have a full jar of sprouts without a lot of hard seeds lagging behind.
Fenugreek Sprouts add a subtle, exotic, spicy flavor to salads, sandwiches, and Indian cuisine. You can sprout the seeds, grind them like a spice, or plant them to grow leaves that have a similar flavor.
At Town & Country Gardens we carry these varieties and many, many more. Sprouts are easy & fast to grow, and delicious & nutritious to eat. Try it, you'll like it… and it's a great way to keep that thumb green during the winter.