Some folks think they have to wait "until the chance of frost has passed" before they plant anything in their yards and gardens. But experienced gardeners know that there are lots of things that can be planted in April when frosts are not only possible, but likely. And the truth is that most of these plants actually prefer to be planted during the cool weather of April. Let's review some of the things that can (and probably should) be planted this time of year.
Vegetables
Peas, leaf crops, and root crops don't mind frost and actually prefer to be planted this
time of year.
Leaf crops include:
Asparagus Harvested June 16, 2014
Broccoli
Brussel Sprouts
Cabbage
Cauliflower
Celery
Chard
Chives
Kale
Kohlrabi
Lettuce
Parsley
Rhubarb

Spinach
Root crops include:
Fruits
Now is the best time to plant nearly all fruits. This includes small fruits such as:
strawberries
Currants
Gooseberries
Grapes
Strawberries
Raspberries
Tree fruits can also be planted now:
Apples Honeycrisp on John's Tree 2011
Apricots
Cherries
Peaches
Pears
Plums
Most fruits can be purchased "bare root" this time of year at considerably lower prices than their potted counterparts- another significant advantage. And frost doesn't bother them at all.
Flowers
Nearly all perennials and some annual flowers will tolerate frost and can be planted early. Some of the more popular annual flowers that will tolerate frost include:
Some flowers will tolerate light frost, and some will tolerate heavy frost. Click here for a list of flowers and their level of frost tolerance.
Trees and Shrubs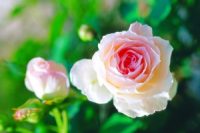 All trees, shrubs, and roses can also be planted this time of year. The only exception would be roses that have been growing inside a greenhouse. You might want to wait on those until May, or be prepared to cover them in case of hard frost.
So if you are getting the itch to start planting, go ahead and scratch that itch… or scratch some soil and get growing. Planting now will not only help treat your spring fever, but your garden will actually perform better. And it will lessen your work load come May when you will be planting the tender flowers and veggies that have to wait until then.