John & Diana Crook
Owners
John grew up in the family greenhouse business. From the age of 10 he has worked and played in the greenhouse- something that continues today. John attended Ricks College (now BYU Idaho) in the Nursery Management department and was one of the first in the state to earn his Certified Nurseryman certification by the Idaho Nursery and Landscape Association. He also earned his Master Gardener certification through the University of Idaho Extension program. John co-hosts a weekly call-in radio show with Rex Andersen on Saturday mornings on KID from mid March through early October.
John and Diana were married in 2017 and through her talent and enthusiasm Diana brought the houseplant, pottery, and decor departments at Town & Country to a whole new level. But most of all John & Diana just like to play in the dirt and spend time with their combined family of 11 children, 35 grandchildren, and 3 great-grandchildren. In their off time they enjoy camping, hiking, gardening, and traveling.
Rex Andersen
CFO
Gardening Consultant
Rex was born and raised in the Sugar City area and has worked most of his adult life in the nursery business. He managed garden centers in the Teton Valley and Rexburg before joining our team at Town & Country Gardens in 2006. Rex also served as president of the Idaho Nursery and Landscape Association in 2006. Rex is a self-proclaimed lawn nut and has a deserved reputation for the greenest lawn in town. His wit and wisdom are on full display each Saturday morning on KID radio where he has hosted a call-in garden talk show with John Crook since 2006. As John has begun to spend less time at the nursery the last couple of years, Rex has capably stepped in to be COO as well as CFO. Rex loves hockey, music concerts, dancing, and most of all his wife and three children, who he adores.
Drew French
Store Manager
Gardening Consultant
Drew was raised in Blackfoot, Idaho and from an early age has been involved in several aspects of agriculture, from moving pipe, to rodeo and eventually to owning his own farm and running a cow/calf operation in Sterling, Idaho. Drew started gardening at a young age with his family and continues to garden when time permits. He attended ISU for 3 years but didn't finish due to joining the Marine Corps. Drew furthered his education through the American Nursery & Landscape Association by completion of the two year Garden Center University curriculum. He has used his education as the Manager of Town & Country Gardens since 2008. Most of all Drew loves the mountains where he lives in Howe, Idaho. Drew loves to hunt, camp, rides horses and four wheelers. He cherishes time spent with his two daughters and family and friends.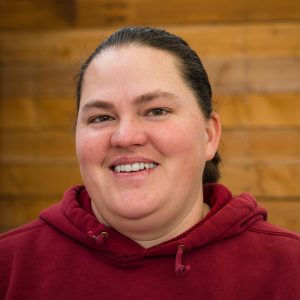 Angela Smith
Nursery &  Operations Supervisor,
Landscape Designer, Gardening Consultant
Angela hails from Westminster, Colorado, but transplanted to east Idaho in 1999. She started working on the grounds crew at BYU-Idaho in 2000 and decided from that point on she wanted to work outdoors with plants the rest of her life. She received her bachelors degree in Horticulture with an emphasis in Design/Build and Maintenance from BYU-I. Angela is also a graduate of the University of Idaho Extension Master Gardener program. Angela joined the Town & Country team in 2006, specializing in outdoor woody plants and landscape design. She loves designing landscapes for customers and is a big fan of dwarf evergreens and miniature gardens. In her free time she loves being outside, including sports, camping, fishing, looking at and photographing plants, and collecting rocks "when my husband drags me along". Angela is also an avid fan of Legos.
James Fleming
Hardgoods Supervisor
Head Gardening Consultant
James is originally from north Florida but moved to Idaho in 2001. He has been with Town and Country since 2010 but has been working in the nursery industry since 1989. He completed the Horticulture program at the University of Florida through CFCC in 1998. James has always loved plants and credits his grandmother for getting him interested when he was very young. She gardened for 70 yrs and was a great inspiration to him. Our customers love James for his incredible knowledge and friendly, helpful manner. James really enjoys being a dad to his 3 sons Bowen, Mason and Ian.  Outside of work he is an avid Star Wars fan, self proclaimed comic geek, and  really enjoys coin collecting.
Cory Bond
Greenhouse Supervisor
Gardening Consultant
Cory was born and raised in Idaho Falls. She graduated from Idaho Falls High School in 2013. That same year she started working as a cashier at Town & Country Gardens, where she has worked ever since. Cory is now our Head Cashier and also one of our buyers. She is a very important part of our management team. Cory is interested in furthering her education in floral design and business management. She is a very bubbly person. It is hard to catch her without a smile on her face. In her spare time she enjoys traveling and the outdoors, especially camping, fishing and taking her dogs out for walks.
Anne Kelly
Indoor Department Supervisor
Gardening Consultant
Anne is a native of Idaho Falls, where from a young age, her father would wake her early to work in the family garden. There she learned to love being in nature and enjoyed the process of planting and harvesting. Anne graduated from  BYU-Idaho with a degree in Horticulture. She has several years experience in floral and garden design, starting with an internship at the New York Botanical Garden and as a gardener and florist on Temple Square.  Anne joined the Town & Country Gardens team in 2020 as supervisor of the Indoor Department, which includes houseplants, pottery, decor, and gift. Anne is the proud aunt of 21 nieces and nephews as well as 5 great nieces and nephews. She loves spending time with her family and friends. She also has a great appreciation for hiking, traveling, reading and dark chocolate.

 James Gill
Operations 
Gardening Consultant
James Gill was born in Honolulu, Hawaii, when he was eight years of age the family moved to Shelley Idaho.  After graduating from Shelley High School James worked in various industries where he could engage in his love for tinkering along with his naturally outgoing personality. This included everything from running a game arcade to building houses, to caring for plants of all kinds.  When James isn't taking something apart or making something better you can find him in full armor as a member of the Society for Creative Anachronism. James also likes to Scuba dive, paint miniature statues and spend time with his son.